Keanu Reeves got married and didn't know it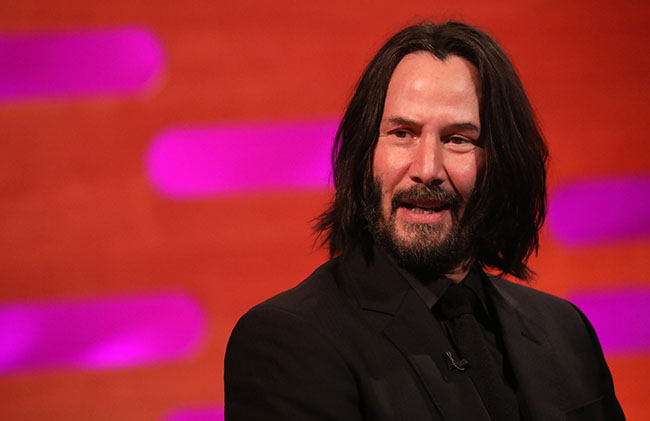 Keanu Reeves... the man, the legend, the secret marrying type (PA Images on behalf of So TV)
Some on screen relationships look pretty convincing and when there's a lot of intense scenes between the romantic leads, it's no surprise they hook up in real life after the movie's over (or sometimes even during filming).
In the case of Keanu Reeves and Winona Ryder, it seems their on screen relationship playing lovers in Francis Ford Coppola's 1992 drama Dracula got taken to an extreme level in real life. And without them even realising until years later.
Their two characters got married in the movie, and the marriage was performed by an actual priest for authenticity's sake - which means technically Keanu and Winona might actually be married in real life!
How crazy is that!?
"We did a whole take of a marriage ceremony with real priests," Reeves told Esquire. "Winona says we are. Coppola says we are. So I guess we're married under the eyes of God."
the fact that keanu reeves is still married with winona ryder oh so true pic.twitter.com/ViQsq77nBf

— z. (@tinygilly) November 23, 2021
In the film Bram Stoker's Dracula, Coppola used a real Romanian priest in the Winona Ryder and Keanu Reeves wedding scene.

So they technically are married. pic.twitter.com/5oyhdX9ZVF

— James (@JILexander) November 25, 2021
Winona had told Entertainment Weekly back in 2018 that she and Keanu were married during the movie, explaining: "I swear to God I think we're married in real life. In that scene, Francis [Ford Coppola] used a real Romanian priest. We shot the master and he did the whole thing. So I think we're married." Keanu laughed at the news and took it in his stride.
If their marriage is real, it adds up to nearly 30 years, which is a lot of anniversaries to miss! Thankfully Keanu and Winona have been friends for years, so if it turns out they need a divorce, it probably won't get too messy. Keanu's too nice a guy to let that happen anyway.
At the very least, maybe it will inspire a romantic comedy!
Someone should write an "accidental marriage" romance novel inspired by that time Keanu Reeves and Winona Ryder were actually married while filming the wedding scene in Dracula.

— Margot Wood is on NaNoWriMo hiatus! (@margotwood) November 23, 2021
In the meantime, check out Destination Wedding, in which Keanu and Winona play miserable, socially awkward singles who meet while headed to a destination wedding where they hate everyone including the bride, the groom, each other and especially themselves.