Support our Artists on Ausmusic T-Shirt Day on Nov 20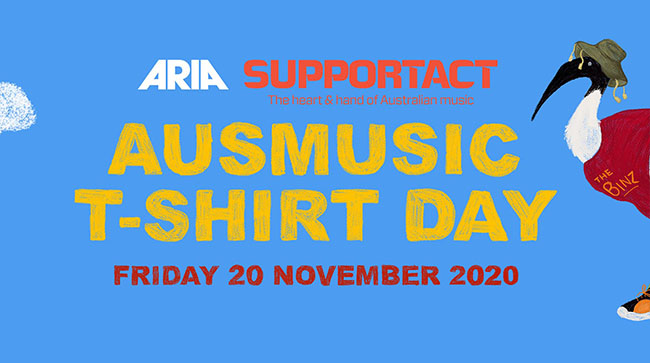 Get out your favourite Australian band t-shirt, because Friday 20th November is Ausmusic T-Shirt Day, a massive nationwide celebration of Australian music.
Celebrate by wearing your favourite band t-shirt! Will it be an old favourite or something new? Is it the one from the first gig that you saw, or the one that best represents your musical taste now?
The campaign is held during Aus Music Month and ARIAS Week and is also an opportunity to help raise funds for Aussie artists, crew and music workers doing it tough during covid.
We're lucky to have such a strong local music scene, with many highly talented and successful artists across all genres of music. And coronavirus has obviously had a devastating impact on the Australian music and arts scene this year - and continues to do so.
Ausmusic T-Shirt Day is held in conjunction with Support Act, who have been providing crisis relief and mental health & wellbeing support to the thousands of artists, crew and music workers (from all genres) who have lost their jobs, their incomes and their career momentum due to the COVID-19 shutdown of the live music industry.
Since May, Support Act has allocated more than $2.7 million in crisis relief grants to music workers who are struggling financially.
Find out more and make a donation on the Ausmusic T-Shirt Day website.
And if it's time to get yourself a new Aussie band t-shirt, check out the merchandise partners range, with a percentage of sales going to support musicians as well.
Support Act CEO Clive Miller says: "If there is one thing our donors and supporters have been telling us since the start of the pandemic, it's how much they miss live music. They also get that artists, crew and music workers have been doing it tough. Ausmusic T-Shirt Day is a great way to celebrate Australian music and the people who create it, while raising funds to ensure that Support Act can continue to provide desperately needed services to our friends and colleagues in need."
The Ausmusic T-Shirt Day campaign has a brand new logo this year, featuring The Binz, designed by First Nations artist, Bree "Little Butten" Buttenshaw. She describes her inspiration as: "When thinking about Ausmusic T-Shirt Day, I was thinking about what music means to me. So I asked a few friends what is important to them in this current climate. So I combined a lot of that into this bird boy. This ibis boy is a deadly guy. He enjoys surfing, music, cares about our sacred land, loves having a good time and is just a general all round good bloke."