Bombing in Afghanistan kills at least 20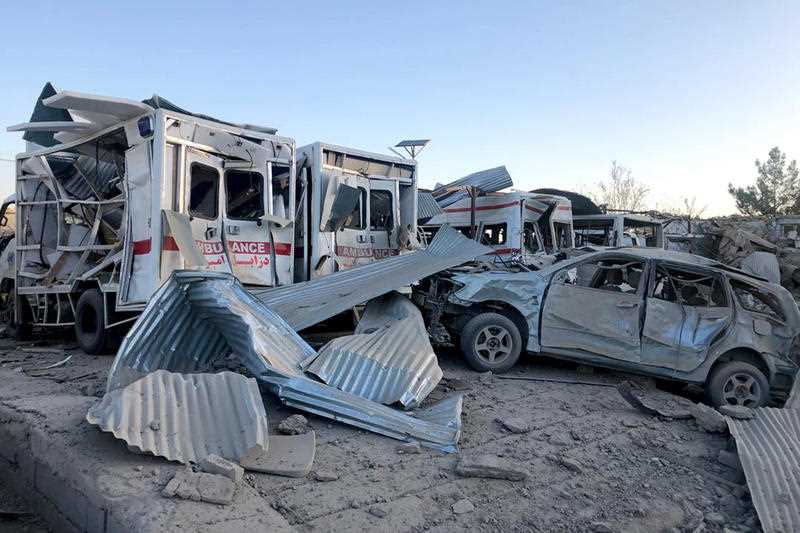 Damaged cars are seen at the site of a suicide attack in Zabul, Afghanistan. A powerful early-morning suicide truck bomb devastated a hospital in southern Afghanistan (AP Photo/Ahmad Wali Sarhadi)
A powerful suicide truck bombing outside a hospital in the capital of southern Zabul province has killed at least 20 and injured as many as 90 others, an Afghan official says.
The head of the Zabul provincial council, Atta Jan Haqbayan, says the powerful bomb exploded shortly after 6am local time on Thursday.
The provincial governor's spokesman Gul Islam Seyal, meanwhile, put the death toll at 12.
#Zabul report: At least 15 killed and 66 wounded, including women, children and two policemen. A vehicle-borne explosive detonated near a hospital and NDS office this morning. #Afghanistan pic.twitter.com/02Z95L2kZW

— TOLOnews (@TOLOnews) September 19, 2019

The hospital in Qalat was badly damaged.
At least three people were killed and 45 others wounded after a truck bomb exploded close to NDS office in Qalat, capital of Zabul, local officials confirmed. #Afghanistan pic.twitter.com/CFtpym58Nf

— TOLOnews (@TOLOnews) September 19, 2019

The Taliban, who have been carrying out nearly daily attacks since peace talks with the United States collapsed earlier this month, claimed responsibility saying a nearby government intelligence department building was the target.
Karzai calls on Taliban to stops attacks: "By conducting attacks and killing Afghans you will not defeat the US in #Afghanistan," and says, "we will have peace when we come together." pic.twitter.com/1cjHL4WthT

— TOLOnews (@TOLOnews) September 19, 2019

Haqbayan said the wall of the National Security Department (NDS) building was damaged. He couldn't say whether any personnel were among the casualties.
© AP 2019